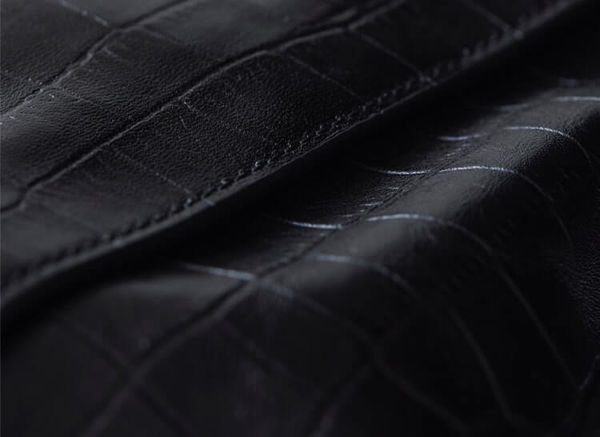 Look After
Your Leather
Quality leather lasts a lifetime.
Care for your AllSaints purchase with our help.
Jackets
Jackets
1. Protect It
Most of our smooth leather jackets do not need any product. But for an extra protective layer, try using a water repellent spray.
Keep your leather out of the rain where possible. If it does get wet, don't panic - just hang it up to dry naturally. Do not force-dry by heat, this may warp the shape of the leather.
Rain, humidity, direct sunlight, oil, grease (hand cream, make-up), alcohol (perfume solvents) and other abrasive products can all cause permanent stains.
2. Store It
To keep your leather looking new for longer, store it in a cool, dark and well ventilated place, avoiding any direct sunlight.
When not wearing your leather regularly, try storing it in a breathable dust bag - never store in plastic covers.
3. Clean It
Don't worry if you mark your leather, if the stain is fresh, wipe it gently with a soft, damp cloth.
Never vigorously rub a stubborn stain. If you can't shift it, consult a professional leather cleaner or use a suitable leather care product.
Handbags & Accessories
Handbags & Accessories
1. Protect It
To prolong the life of your AllSaints leather bags, treat them on a regular basis using a good quality cream for a dull lustre finish or beeswax polish for a high shine finish. Always ensure the bag is dry before applying any creams.
Matt Python leather: always apply the product in the direction of the scales. This helps to moisture the leather and prevents cracking.
To look after a suede or nubuck handbag or SLG, please use a suede brush or horsehair brush and brush the suede in both directions.
Never use cleaning liquids or liquid polish on your bag, this destroys natural leather. If your leather bag becomes wet, allow it to dry naturally.
2. Store It
We recommend stuffing your bag and storing it in the grey dust bag provided when not in use, avoid storing in plastic packaging.
Store your leather belt in a low-humidity area, and out of direct sunlight.
3. Clean It
Our bags can be cleaned with a damp or dry cloth, which should be gently wiped across the surface of the bag, rather than rubbed.
Wipe your leather belt with a clean, damp cloth or soak up any spills by gently blotting it. Saddle soap can also be used to clean and condition the leather, once finished allow it to air dry.
Leather belts with an oily or waxy finish can be more prone to scratches. Simply rub them with your hand to restore the color.
When cleaning nubuck and suede belts, gently wipe with a clean cloth. Dry, stubborn stains can be cleaned with a suede brush. Calf hair belts can be wiped with a clean, damp cloth, always working in the direction of the grain.
Footwear
Footwear
1. Protect It
To moisturise and prevent cracking, treat your leather footwear on a regular basis - use a good quality cream for a dull lustre finish, or beeswax polish for a high shine. Always ensure your footwear is dry before applying any creams or wax. Do not use liquid polish applicators on fine leather footwear.
Should your leather shoes get wet, allow them to dry naturally, never dry them using direct heat or a radiator.
Natural leather heels and soles are often made up of several layers. Leather will expand when wet and should be dried slowly to avoid separation of these layers.
2. Store It
Store footwear with limited exposure to heat and sunlight.
Use shoe trees or shoe molds whilst footwear is in storage to maintain the shape of your footwear and help absorb excess moisture.
3. Clean It
Smooth leather footwear can be cleaned with a soft, dry cloth to remove any dirt. Gently clean suede and nubuck footwear with a suede brush. Removing stubborn marks will require any suitable shoe care product.
REPTILE CUTWORK

Crafted by hand on cow leather, the cutwork replicates natural reptile scales. Brush in the direction of the scales to clean.
SUEDE

Suede is crafted by sanding or rubbing the inside layer of the leather hide. Treat with water repellent spray.
NUBUCK

Nubuck is crafted from the sanded outside layer of the leather hide. This surface texture is called the 'nap'. Gently brush regularly to keep the velvet-like handfeel.
Good To Know
Due to the organic nature of the fabric, growth marks, grain and color variations are to be expected and are a characteristic of natural leathers.
Variations in tone, marking and even texture should not be considered imperfections, but unique identifiers of your leather item.
Due to the natural finishes of leather, suede and nubuck, color transfer can occur on other materials.
None of the animals are raised for the leather primarily - the leather is a byproduct, worth 1.2% of the animals value.
We would suggest a professional leather cleaning by a specialist who uses an environmentally friendly method to protect your garment as needed
Natural leather patina may develop with age and wear.
Leather belts have the natural ability to stretch over time with wear.
CHROME FREE TANNING

Found across many of our leather products. Chrome-free tanning is done without using Chromium III, meaning the leather has better biodegradability properties.
RECYCLED POLYESTER

Recycled polyester, also known as rPET, is obtained by melting down existing plastic and re-spinning it into new polyester fibers.
VEGETABLE TANNING

For some of our jackets, the leather- making process is carried out using vegetable tanning. Dyes are made from natural compounds such as nuts, fruits, tree bark, and leaves.
#AllSaints
Share how you're styling your @ALLSAINTS to be featured.
Our clothes look better on you.
Share your style FAQ'S
Black leather jackets will not really lose color but if worn in heavy rain - will discolor. Suede leather jackets might have a more noticeable change. Best to keep it out of rain or in contact with water as much as possible.
Hang the leather jacket up and try to get moisture into it in which the crease and folds will drape out. Also wrinkles in the leather jacket come with the 'look' of a leather jacket. But anything else (crease from sitting on it weirdly, let it hang in a moist environment).
If a leather jacket is unlined, best to use a leather care/spray repellent to prevent staining from occurring. Do not wear any light clothes and when wearing suede, try not to get it into water/rain.
Usually leather is sourced from NZ, America, EU, UK.
Rain, humidity, direct sunlight, grease, alcohol, beauty products (including perfume) and any other products that could cause staining.